Bellows for Elevating Platform
Our customers for Elevating platform bellows come mainly from the automobile, machine tool and medical industry. This allows you to open the cover for maintenance and cleaning purposes. Basically all other types of end-plates are possible. The mounting and installation of these elevating platform bellows is very easy. As standard equipment we offer a Velcro tape on each side.
Our Velcro tapes are tested and approved for 10.000 opening and closing cycles. Elevating platform bellows has become very popular and today is widely used in different industry branches. We are manufacturing it according to the requirement of the customer.
We often use metal end-plates on one or both sides. As for the increased safety requirements, we recommend a bellow protection for most types of elevating platforms. Due to to our long-term experience we can also offer a design with plates.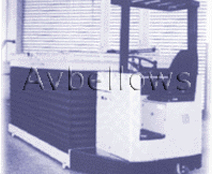 Quality
Stabilizing PVC frame in every fold because of the incorporation of PVC frames, ELASTIC bellows have extremely high dimensional stability. When elevating platform bellows are distorted, a return to the original shape is guaranteed.
This represents an obvious advantage, in comparison with simple types made from rubber or strengthened paper.
All ELASTIC bellows can be used for horizontal and vertical applications (also mixed assemblies). They guarantee smooth and extremely quiet running qualities. Because of the use of low thickness materials, compression results suited to the restricted spatial conditions in modern machinery can be achieved.
The uniform surface conditions and the regularity of the contours of the ELASTIC bellows ensure an outstanding overall visual impression, making the machinery more attractive.
The variety of the shape of the ELASTIC bellows has few limitations. Nevertheless, two basic shapes, the jalousie and the U shape, predominate. Additional stability can be achieved by using so-called back grips, which surround the guideways. The off-flow of liquids can be improved by the use of inclined or roof shapes. The rectangular shape is used primarily for platform applications (elevating platform, medical equipment). It can also be subsequently fitted and can be closed with the aid of adhesive tape, Velcro tape or adhesive tape closures.
The sliding properties of the ELASTIC bellows on the guideway can be additionally improved by special slide elements. If the ELASTIC bellows are subject to high starting acceleration, more uniform extension can be achieved by locking devices. We have a solution for practically any technical problem.
Elevating Platform Bellows Technical specification :
FB - Width of fold
FZD - Compression per fold
FAZ - Extension per fold
FStroke - Lift per fold
Lmax - Maximal total extension
Lmin - Minimal total compression
Dimension
| | | | |
| --- | --- | --- | --- |
| FB in mm (Inch) | FAZ in mm (Inch) | FZD in mm (Inch) | FStroke in mm (Inch) |
| 25 (0.98) | 38 (1.50) | 5 (0.2) | 33 (1.30) |
| 30 (1.18) | 45 (1.77) | 5 (0.2) | 40 (1.57) |
| 35 (1.38) | 52 (2.05) | 5 (0.2) | 47 (1.85) |
| 40 (1.57) | 62 (2.44) | 5 (0.2) | 57 (2.24) |
| 45 (1.77) | 75 (2.95) | 5 (0.2) | 70 (2.76) |
| 50 (1.97) | 80 (3.15) | 5 (0.2) | 75 (2.95) |
Reach Us
New no 79-Old105,Eswaran Koil street, Town Hall, Coimbatore - 641001
Ph : 0422-4355328